I Want a Monkey
I Want A Monkey
I want a monkey to sleep with me at night
To cuddle so close and hold real tight
My monkey and me, we'll swing from a tree
He'll be my friend, my fuzzy buddy
His hair will be brown and silly like a clown
We'll hang from the trees upside down
I want a monkey to sleep with me at night
To cuddle so close and hold real tight
I want a monkey to sleep with me at night
He can't have teeth so he won't bite
My monkey and me will watch funny cartoons
Laying on the floor in the afternoon
His hair will be brown and silly like a clown
We'll hang from the trees upside down
I want a monkey to sleep with me at night
To cuddle so close and hold real tight
His hair will be brown and silly like a clown
We'll hang from the trees upside down
I want a monkey to sleep with me at night
To cuddle so close and hold real tight
I Want a Monkey
Copyright 2015 Lynn Leonti
Introduction to Monkeys (Facts and History)
There are many different things that come to mind when we think about Monkeys. They are often seen as being cute and highly intelligent animals. There are many different species that have their own characteristics in terms of size, color, location, and even their abilities. They are known for being good care givers to the young and even having some humanistic movements.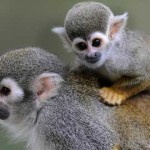 Monkeys are very vocal animals and that is their name way of communicating with each other. They give of different pitches to warm off danger, to call a mate, and even to communicate with their young. Even though the communication of Monkeys has long been studied, there is a great deal that we still don't know about it. 
I Want a Monkey was one of my first children songs written and my favorite.