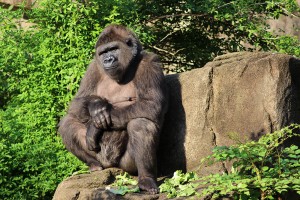 Gorilla Pregnant From Cincinnati Zoo
Gorilla News: CINCINNATI, OH (May 8, 2015) –"Anju," a 14-year-old Western Lowland gorilla, is pregnant with her first baby! An ultrasound picked up the image below last week, confirming previous positive pregnancy tests (similar to the ones used by humans).  Vet staff is predicting the baby to arrive around Labor Day.
Anju was born on April 27, 2001, at the Pittsburgh Zoo and came to the Cincinnati Zoo in 2012.  She is in a group with silverback "Jomo" (the baby's father), "Samantha," "M'Linzi," "Asha," two-year-old "Gladys" and baby "Mondika."  The Zoo's other gorilla group includes young silverback "Harambe" and 19-year-old females "Chewie" and "Mara."  This is Jomo's third baby, his first being Bakari, a male gorilla that was born August 13, 2006, and second being Mondika, born August 4, 2014.
"Anju's baby will make number 50 for the Cincinnati Zoo!  Of course we are not counting our chickens before they hatch and realize a lot of great care, management and some good luck must happen to produce a happy, healthy, mother-raised baby.  But, more than just representing how many baby gorillas have been born here since 1970, the number 50 is more representative of the long standing commitment the Cincinnati Zoo has made to managing gorillas properly at the Zoo, helping to save them in the wild through our in situ conservation efforts and sharing all of these great stories with our guests, friends and followers. I am proud to be part of that  long, significant history while helping to usher in a bright future," said Ron Evans, Curator of Primates at the Cincinnati Zoo.
After the birth of Bakari in 2006, Cincinnati Zoo purposely slowed down its gorilla propagation program to guard against introducing too many related individuals into the national population.  Zoos do not take gorillas from the wild in order to conserve this critically-endangered species, therefore carefully managing and maintaining the captive population is an important task. 
Read More:  http://cincinnatizoo.org/blog/2015/05/08/gorilla-baby-on-the-way-at-cincinnati-zoo/
Our Kid's Educational Animal Songs are fun and upbeat with contemporary music that your kids will love to dance to.
Zoo News by Month
February 2020
M
T
W
T
F
S
S
« Feb
1
2
3
4
5
6
7
8
9
10
11
12
13
14
15
16
17
18
19
20
21
22
23
24
25
26
27
28
29